The Hunting Lease Community groups were designed as a tool to help locate and announce hunting leases.
While many great opportunities are listed in the groups,
we have found that some areas have higher demand and less supply and don't always see a lot of listings coming from these areas.
When this happens, we turn to Lease Spotter, a platform of The American Hunting Lease Association.
The Lease Spotter Platform offers great opportunities to list leases as well as find leases in hard to find areas.
The American Hunting Lease Association has perfected the process of connecting hunters to the hunting leases of their dreams!
Whether you are looking to fill the freezer or hoping to put the trophy of a lifetime on your wall, AHLA can help you find the right lease to meet your needs, there are no locator fees, no monthly membership fees and no processing fees!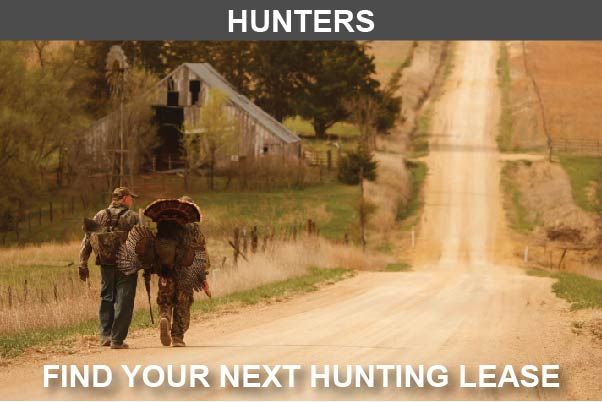 Now on the opposite side of this hunting lease availability dilemma, as we have said some areas are higher in demand, there are also areas with opportunities in abundance. In these areas, landowners can have difficulty competing for hunters to lease their properties.  Lease Spotter also serves as a valuable tool for landowners looking to lease properties, from education, to tools, to listing services, hunting lease insurance and more!
The American Hunting Lease Associations' Lease Spotter Hunting Lease Listing Service
provides every tool needed to enjoy an ethical, safe and affordable hunting lease experience.
Hunting lease agreements that are fully customizable
$1,000,000 hunting lease liability insurance policy (protecting both hunters and landowners.)
 The Lease Spotter platform provides a simple conduit to connect landowners with hunters
that are interested in leasing their farms or property.
The AHLA is the hunting lease industry's leader in education, guidance and promotion.
Use their library of resources and unmatched reputation in the industry to your advantage!
Use the quick listing process and marketing expertise of The American Hunting Lease Association to create professional listings that will attract the right hunters for your properties.
There is a quick 10 minute process will take you through the creation of the listing,
so hunters can easily understand the requirements and make
the decision to contact the landowners for additional information.
---